<![if !vml]>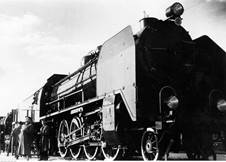 <![endif]>
An unidentified Pt31 on display at an industrial exhibition in Warsaw, September 1936. Source: National Digital Archives (used by permission).
<![if !vml]>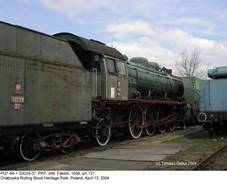 <![endif]>
Pt31-64 + 32D29-37, Chabówka Rolling Stock Heritage Park, April 13, 2004
<![if !vml]>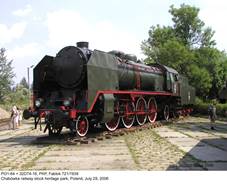 <![endif]>
Another picture of the Pt31-64, taken on July 29, 2006…
<![if !vml]>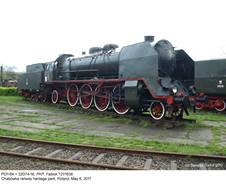 <![endif]>
…and yet another: May 6, 2017.
<![if !vml]>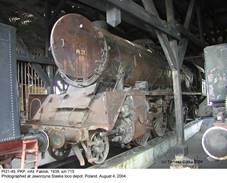 <![endif]>
Pt31-49 under restoration at the Jaworzyna Śląska depot; photo taken on August 4, 2004.
<![if !vml]>

<![endif]>
Side drawing of Pt31, taken from PNP.
<![if !vml]>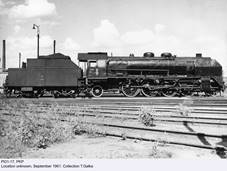 <![endif]>
Pt31-17, somewhere in Poland, September 1961. Photo from my collection.
<![if !vml]>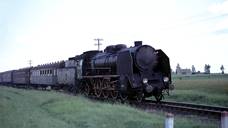 <![endif]>
Good color photos of Polish trains from 1970s are extremely rare. Pt31-32 with a passenger train from Rozwadów to Ostrowiec was photographed by Geoff Plumb on July 1, 1974 (http://geoff-plumb.fotopic.net – thanks for permission!). Note a draft of old German two-axle coaches, of which many were then still in use. Pt31-32 was completed by Fablok for DRG as 19 162 (s/n 791/1940) and returned in 1945.
After WWI, Polish railways took over about 350 express locomotives of German (mainly Prussian) and Austrian origin. Most of them, however, were obsolete and weak machines with only two driven axles. Those that could be considered modern at that time included Austrian classes 210 and 310, re-designated Pn11 and Pn12, respectively (the former running on saturated steam) and Prussian classes S10, S101 and S102 (in Polish service, Pk1, Pk2 and Pk3); their total number was slightly over eighty machines. Production of freight and later also passenger locomotives was given priority. In late 20s, however, lack of express locomotives became obvious, as PKP had only 83 express engines. Os24s, used with some express trains, were not satisfactory and their service speed had to be reduced, due to poor running qualities. Ok1s and Ok22s, used for the same purpose, were too slow and weak. New machine was thus necessary.
Locomotive design in Poland was, to a large extent, influenced by German patterns, which favored express locomotives with three driven axles. Two-axle lead truck was considered mandatory for a fast machine and, with a rear idle axle necessary to support the weight of a large firebox, this led to the 2-3-1 arrangement, or Pacific – one of the most common ones for express locomotives in Europe. It was, however, decided to use four driven axles, as new engine was intended for heavy drafts, 750 tonnes or even more. 2-4-1 axle arrangement resulted in a long machine, so it was suggested that for speeds up to about 100 km/h a single-axle lead truck might suffice. In order to resolve this question, Ministry of Transport ordered two prototypes: Pu29 (2-4-1) from HCP (Cegielski) of Poznań and Pt29 (1-4-1) from First Locomotive Factory in Poland (Fablok) of Chrzanów. Due to some delay – an order from Bulgarian state railways BDŽ had been given priority – Pt29 appeared later than planned and was re-designated Pt31. 1-4-1 axle arrangement was first conceived in the USA; known there as Mikado, it was very popular, mainly with freighters. In Europe Mikados were considered universal machines, but only French railways ordered them in large numbers; classes 141P and 141R were one of the last and best known steam locomotives operated by SNCF. Fablok had had some experience with 1-4-1s, having built locomotives with this axle arrangement for Morocco (class 141A, 12 examples) and above-mentioned for Bulgaria (class 01, 10 examples).
Pu29, although entirely successful, immediately proved too long for most turntables; despite good performance, its output was limited to three examples. Pt31 won by being shorter by just 76 centimeters. It was also lighter by seven tonnes, but maximum axle loads were comparable. Both these locomotives had much in common; in particular, their steam engines were the same, as was the diameter of drivers. Contrary to its larger competitor, Pt31 had beam-type frame and shorter boiler (by 300 mm); number of smoke tubes was, however, increased from 103 to 112 and number of flues from 26 to 38, so both total evaporating surface and superheater surface were slightly increased. Two-axle lead truck was supplanted by Krauss-Helmholtz single-axle truck; rear Bissel semi-truck was retained.
Three Pt31 prototypes were ordered in 1931 and the first of them (s/n 518/1932) was rolled out in October 1932. Tests began immediately and results were satisfactory, overall efficiency being comparable to that of the state-of-the-art European machines. Footplate crews praised ease of maintenance, good running qualities and excellent performance even on steep gradients. After several minor modifications, Pt31 was accepted as a standard express locomotive for PKP and deliveries began in 1934. From eleventh example onwards new, higher smoke lifters were introduced. All Pt31s were coupled with 32D29 tenders, originally designed for both Pu29 and Pt31.
On January 1, 1939, PKP had 81 examples and further seventeen were delivered during next eight months. Of these, 54 were captured by Germans in September 1939 and impressed into DRG service as 19 101 through 154 (these numbers were assigned in 1941). Further twelve examples, ordered by PKP but not delivered before the war, were completed by Fablok under German supervision and supplied to DRG as class 3910 (service numbers from 39 1001p through 1012p, later re-classed 19 155 through 166), bringing the total output to 110 examples. No Pt31 was destroyed during hostilities and all remaining 44 machines were captured by Soviets. Some of them (probably 21) were converted to 1524 mm track and based in Lwów, retaining their Polish designations written in Russian script (ПТ-31). They were never returned and last were withdrawn in 1961. The remaining 23 engines were captured by Germans in 1941; according to PNPP, fourteen were impressed into DRG service as 19 167 through 180 and the rest were taken over by Ostbahn and withdrawn in 1944. Germans – with their unquestionable achievements in railway engineering, albeit aimed at simplicity rather than technical excellence and superior economy – held Pt31s in surprisingly high esteem; they were considered especially suitable for heavy drafts in mountainous regions. No wonder, thus, that most captured machines were soon transferred to southern Germany and Austria. In fact, DRG had no comparable locomotive of indigenous design, apart from Saxonian class XX HV (later DRG class 19), of which just 23 examples had been built by Hartmann between 1918 and 1923: a beautiful and good machine, it was not developed further by DRG. Even 'Reko' class 22 with the same axle arrangement, which appeared in the DR rosters aftere the war, was weaker and heavier on coal.
During the war, Pt31s were scattered around Eastern and Central Europe and in 1945 only eight were regained by PKP. The rest served in a number of countries:
<![if !supportLists]>- <![endif]>Germany – seven with DB, written  off in 1951, and twelve with DR, all returned to PKP (most in 1955, generally in poor condition);
<![if !supportLists]>- <![endif]>Austria – 42 in all, of which 29 were returned in 1947 and 1948, eight went to MÁV and later to PKP, two were written off in 1947 and three remained with ÖBB on former Südbahn lines (numbered 919.158, 919.165 and 919.166, withdrawn in 1961); some sources add Pt31-94, but this has not been confirmed by Austrian or German sources;
<![if !supportLists]>- <![endif]>Czechoslovakia – eight examples, five of them classed 488.0 with ČSD service numbers 488.0500 through 488.0504, all returned to Poland in 1947;
<![if !supportLists]>- <![endif]>Hungary – eight from ÖBB, returned in 1952 and 1953, plus one from DRG, not returned, scrapped in 1953;
<![if !supportLists]>- <![endif]>Romania – one (ex-Soviet Pt31-38, CFR number 141.901, later taken over by NKPS and withdrawn in 1961; some sources, including ITFR, erroneously give Pt31-48);
<![if !supportLists]>- <![endif]>USSR – 29, none returned; eight served with the Soviet Army transportation corps and were later transferred to the Far East, to be impressed into Eastern Chinese Railway in Manchuria;
<![if !supportLists]>- <![endif]>one German engine (19 164, Fablok 793/1940) was written off after an accident in 1941.
The above list is based on available sources which reveal some discrepancies.
Some engines that returned were in a very poor condition and were not restored in service. Total number with post-war PKP was 65 examples, but numbers ran up to 66, as the sole Pu29-3 was initially erroneously included in rosters as Pt31-46. They gave good service and remained in use until late 70s. During overhauls they were fitted with firebox circulation tubes (as in class Pt47) and some were coupled with modified 32D74 tenders. Last engine of this type in service, Pt31-49 (pre-war Pt31-73, s/n 715/1938), was withdrawn in February 1980 and then used for some time as a stationary boiler at a food industry establishment. This machine can now be seen at the Industry and Railway Museum in Jaworzyna Śląska (former loco depot); its condition is far from satisfactory, but restoration is under way. Several other examples ended up as stationary boilers; Pt31-28 served in that inconspicuous role at least until 1996. The second preserved example is Pt31-64 (s/n 721/1938) at the Railway Stock Heritage Park in Chabówka. No more machines have survived until today.
Many view Pt31 the best locomotive ever designed and built in Poland and this opinion is certainly justified. Shortly after the war it was decided to commence its production as the basic express engine for Polish railways – once again. After some modifications it emerged as Pt47 and 180 examples were built, both by Fablok and HCP. This engine is described under a separate entry.
Main technical data
| | | | |
| --- | --- | --- | --- |
| No. | Parameter | Unit | Value |
| 1. | Years of manufacture | - | 1932 – 1940 |
| 2. | Total built / used in Poland | - | 1101) / 98 |
| 3. | Tender class | - | 32D29 |
| 4. | Axle arrangement | - | 1-4-1 |
| 5. | Design maximum speed | km/h | 110 |
| 6. | Cylinder bore | mm | 2 X 630 |
| 7. | Piston stroke | mm | 700 |
| 8. | Engine rating | kW/hp | 1472 / 2000 |
| 9. | Tractive effort | kG | 13 500 |
| 10. | Boiler pressure | MPa | 1.53 |
| 11. | Grate dimensions | m X m | 2.71 X 1.664 |
| 12. | Firebox heating surface | m2 | 17.0 |
| 13. | Distance between tube plates | mm | 6 200 |
| 14. | Number of flue tubes | - | 112 |
| 15. | Heating surface of flue tubes | m2 | 118.0 |
| 16. | Number of smoke tubes | - | 38 |
| 17. | Heating surface of smoke tubes | m2 | 99.0 |
| 18. | Evaporating surface, total | m2 | 234.0 |
| 19. | Superheater heating surface | m2 | 91.46 |
| 20. | Diameter of drivers | mm | 1850 |
| 21. | Diameter of idlers front/rear | mm | 1000 / 1200 |
| 22. | Total weight, empty | kg | 95 800 |
| 23. | Total weight, working order | kg | 106 200 |
| 24. | Adhesive weight, working order | kg | 73 800 |
| 25. | Weight with tender, empty | kg | 122 300 |
| 26. | Weight with tender, working order | kg | 174 700 |
| 27. | Maximum axle load | T | 18.3 |
| 28. | Axle base (with tender) | mm | 20 235 |
| 29. | Overall length (with tender) | mm | 23 835 |
| 30. | Brake type | - | Westinghouse |
<![if !supportLists]>1) <![endif]>Including 12 examples supplied directly to DRG in 1939 and 1940.
References and acknowledgments
<![if !supportLists]>- <![endif]>Monographic articles by Paweł Terczyński (SK vol. 11/2003) and by Ryszard Stankiewicz (KMD vol. 1-2/2013);
<![if !supportLists]>- <![endif]>Ingo Hütter's website www.locomotive.de/lokomotivgeschichte/datenbank, also private communication;
<![if !supportLists]>-

<![endif]>
PNPP
,
PNP
,
AP
,
LP
,
ITFR
;
<![if !supportLists]>-

<![endif]>
Markus Hoenicka (private communication).