<![if !vml]>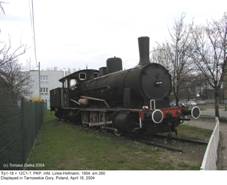 <![endif]>
Tp1-18 (ex-DRG 55 503, Schwartzkopff 4066/1908) plinthed in Tarnowskie Góry; photo taken on April 16, 2004.
<![if !vml]>
<![endif]>
Another photo of the sole surviving Tp1, taken on September 28, 2005.
<![if !vml]>

<![endif]>
Side view of the G71 (drawing by M.Kratochvil, source: TB vol.1).
<![if !vml]>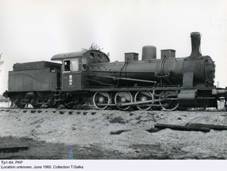 <![endif]>
Tp1-64, location unknown, June 1960. Photo from my collection.
<![if !vml]>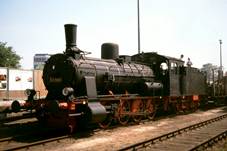 <![endif]>
55 669 (Henschel 7419/1905), photographed in Potsdam on May 17, 1993, by someone who wishes to be known as MPW57. Source: www.de.wikipedia.org.
Freight locomotives with three driven axles remained the mainstay of Prussian KPEV (Königlich Preußische Eisenbahnverwaltung) fleet almost until the end of the 19th century: over 3000 engines with the 0-3-0 axle arrangement (classes G3 and G4 with several sub-variants) were delivered between 1881 and 1907. However, their tractive effort of 8.2 to 9 tonnes soon became insufficient. Classes G51 through G55, which remained in production until 1910 and featured the 1-3-0 axle arrangement, offered better running qualities rather than more power. Obviously engines with four driven axles were necessary and such need had been recognized much earlier. First 0-4-0 freighter appeared in early 1890s and was accepted as class G71.
New freighter was substantially heavier and more powerful than its 0-3-0 predecessors, but axle load remained virtually unchanged, below 15 tonnes. Basically, it followed typical Prussian design practice, with low-pitched boiler and narrow firebox between rear drivers – KPEV did not have to burn low-grade coal. Cylinder bore was increased to 520 mm and diameter of drivers was reduced from 1350 to 1200 mm; in fact, new machine was designed for high tractive effort rather than speed. In order to negotiate tight curves, 2nd axle had side-play of 7 mm and 4th axle – of 10 mm, while 3rd driven axle had wheel flanges narrowed by 5 mm. G71 featured somehow old-fashioned Allan valve gear, single-expansion engine and steam brakes. Three-axle 3T12 tenders were typically used, although later some locomotives ran with larger 3T16,5 tenders. New locomotive could haul a 1400-tonne draft at 40 km/h and a 600-tonne draft on the 5‰ slope at 30 km/h. Maximum speed was initially set at 45 km/h, later increased to 50 km/h.
G71 was entirely successful and was ordered by KPEV in large numbers. Between 1893 and 1909 these engines were supplied from six factories (Hanomag, Henschel, Linke-Hofmann, Schichau, Schwartzkopff and Vulcan).  Despite the appearance of more powerful and heavier 0-4-0s – in particular G81, which for the first time featured steam superheating – G71s proved very useful and versatile on weaker tracks, which was very valuable during the war. Thus, in 1916, production of this type was re-commenced and – apart from the above-mentioned – new engines were delivered by Borsig, Hartmann, Hohenzollern, Jung and Orenstein & Koppel, bringing the grand total to 1205 examples until 1917, when production was finally stopped. Further 48 were built for other railways. This included three for Lübeck-Büchener Eisenbahn (Schwartzkopff 2594 through 2596/1898) and 35 engines, differing only in minor details, built by Henschel in 1916 (factory numbers 14113 through 14147) for Austrian military railways kukHB and classed 274.  
Following the Armistice and Versailles Treaty, over 500 examples were distributed among several countries, including Belgium (SNCB class 71), France (SNCF class 040B), Lithuania (LG class P7.1) and Latvia (LVD class Sn). Czechoslovakia acquired 32 examples, classed 413.0 (together with ex-KPEV G72s, which differed mainly in having compound steam engines); some of them were left by the German army and the rest were purchased from American stocks. Italian state railways FS acquired 17 examples from the same source and impressed them into class 421, together with G72s and one ex-kukHB 274 (the latter was written off in 1923). Most were withdrawn in the 1930s and only a handful (about ten of both types) survived until WWII (many thanks to Giuseppe Signorello for information!). Prussian railways were left with 660 examples, later impressed into DRG as class 550-6. Many were withdrawn in late 1920s and early 1930s, but thirteen more (55 661 through 673) from the Saar railways followed in 1935, and further three from LBE in 1938. Ex-ČSD engines, acquired following the Munich Treaty in 1938, were not impressed into DRG. Most of them served in the occupied Czech territories with ČMD (Českomoravské protektorátni dráhy); twelve went to Slovakia and fifteen to Hungary (MÀV class 431 – some of them went to PKP after the war).
Poland received a comparatively large number of these locomotives, namely 143. All but one were impressed into the PKP service as class Tp1; no Polish designation is known for Breslau 4460 (Schichau 1592/1907), so this engine had possibly been written off before new designation system was introduced. Most served in southern and south-western Poland, where their low axle load was an advantage. According to www.derela.republika.pl, a Prussian G71 (number unknown), with makeshift partial armor, was used by Polish troops during the 3rd Silesian Uprising in 1921. Five Tp1s were withdrawn from PKP in late 1930s. According to LP, after the September campaign 66 Tp1s fell into German hands; all were classed 550-6 and given service numbers after those withdrawn before the war. Some of them (probably nineteen) were converted to the 1524 mm track and served mainly at the transfer stations along the pre-war Polish-Soviet border. 51 were taken by the Soviets, but most of them (42) later fell into German hands. Five went to Hungary with evacuation trains and were later impressed into MÁV service as 431,016 through 020 – two were returned after the war. Tp1-133 (Schwartzkopff 6008/1916, KPEV Posen 4688) was evacuated to Lithuania and, after brief service as LG 351, fell into Soviet hands. The fate of fourteen examples in unknown.
After the war, over 100 locomotives of this type were returned to PKP, but only 99 were impressed into service and given new numbers. Most of them, however, were not pre-war PKP engines; some came from Austria, Czechoslovakia, Hungary, Soviet Union or Yugoslavia. 21 ex-PKP Tp1s were taken over by ČSD; due to higher maximum speed, they were initially classed 423.1, but in fact only six were given new designations (423.1500 through 1505; later they were re-classed and re-designated 413.096 through 101). The rest were returned to PKP or scrapped in early 1950s; two went to Yugoslavia (JDŽ class 114, later included in class 23 together with a number of various other engines, as 23-046 and 23-047). A number of ex-Polish Tp1s (probably nine) were returned by DR as late as in 1955 and 1956, only to be written off without even being given new service numbers.
Other 'new' post-war users included Hungarian GySEV (Györ-Sopron-Ebenfurth railway), Austrian ÖBB (class 655) and CFL of Luxembourg (class 45), but none used these elderly engines for more than a couple of years.
Post-war service of these obsolete locomotives with PKP was not particularly eventful. Most were withdrawn in the 1950s and scrapped; only few survived until mid-1960s, most of them as switchers. As far as I know, the last one in service was Tp1-62 (ex 55 503, Schwartzkopff 4066/1908), written off in January 1966. A few went to various industrial operators, mainly railway track maintenance establishments. Tp1-18 (ex-KPEV Magdeburg 4417, then DRG 55 274, Linke-Hofmann 260/1904) has been plinthed in Tarnowskie Góry as the only surviving PKP engine of this type. It is worth mentioning here that after WWII one G71 (Henschel 14045/1916, ex-KPEV Essen 5881) was erroneously designated Tp106-10; as far as I know, this was never corrected.
It should be noted that after WWI Polish railways acquired also 26 ex-kukHB class 274 engines. They were classed Tp106 and, due to certain differences, shall be described under a separate entry.
After WWII, a number of these elderly engines remained in use in Germany, both with DB (until 1957) and DR (until 1966). 55 669 (Henschel 7419/1905) has been preserved at the Verkehrsmuseum in Dresden; this engine, which served with KPEV as Saarbrücken 4438, then with Saar railways as 4426 and finally with DRG, remained with DR after WWII and was withdrawn in 1964. Thus, from this once numerous and important class, only two examples have survived until today.
Main technical data
| | | | |
| --- | --- | --- | --- |
| No. | Parameter | Unit | Value |
| 1. | Years of manufacture | - | 1893 – 1917 |
| 2. | Total built / used in Poland | - | 1253 / 142 – 993) |
| 3. | Tender class | - | 12C1 |
| 4. | Axle arrangement | - | 0-4-0 |
| 5. | Design maximum speed | km/h | 502) |
| 6. | Cylinder bore | mm | 2 X 520 |
| 7. | Piston stroke | mm | 630 |
| 8. | Engine rating | kW/hp | 485 / 660 |
| 9. | Tractive effort | kG | 11 300 |
| 10. | Boiler pressure | MPa | 1.22 |
| 11. | Grate dimensions | m X m | 2.28 X 1.0 |
| 12. | Firebox heating surface | m2 | 10.75 |
| 13. | Distance between tube plates | mm | 4 500 |
| 14. | Number of flue tubes | - | 218 |
| 15. | Heating surface of flue tubes | m2 | 141.0 |
| 16. | Number of smoke tubes | - | - |
| 17. | Heating surface of smoke tubes | m2 | - |
| 18. | Evaporating surface, total | m2 | 151.751) |
| 19. | Superheater heating surface | m2 | - |
| 20. | Diameter of drivers | mm | 1250 |
| 21. | Diameter of idlers front/rear | mm | - / - |
| 22. | Total weight, empty | kg | 46 620 |
| 23. | Total weight, working order | kg | 52 600 |
| 24. | Weight on drivers, working order | kg | 52 600 |
| 25. | Weight with tender, empty | kg | 63 520 |
| 26. | Weight with tender, working order | kg | 88 500 |
| 27. | Maximum axle load | T | 14.7 |
| 28. | Axle base (with tender) | mm | 11 775 |
| 29. | Overall length (with tender) | mm | 16 615 |
| 30. | Brake type | - | steam |
<![if !supportLists]>1)

<![endif]>Some sources give 149.4 m2
<![if !supportLists]>2) <![endif]>Initially set at 45 km/h
<![if !supportLists]>3) <![endif]>After WWII
References and acknowledgments
<![if !supportLists]>- <![endif]>Ingo Hütter's website www.lokomotive.de/lokomotivgeschichte/datenbank;
<![if !supportLists]>- <![endif]>TB vol.1, EZ