<![if !vml]>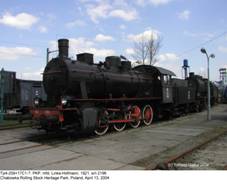 <![endif]>
Tp4-259 on display at the railway stock heritage park in Chabówka; photo taken on April 13, 2004.
<![if !vml]>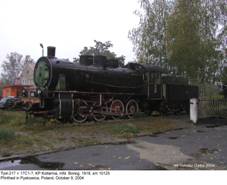 <![endif]>
Tp4-217 from Kotlarnia sand mine, plinthed in Pyskowice; October 9, 2004.
<![if !vml]>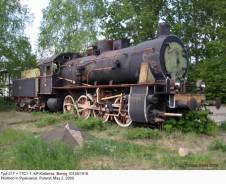 <![endif]>
Another picture of this engine, taken on May 2, 2009.
<![if !vml]>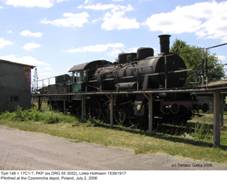 <![endif]>
Tp4-148, plinthed at the Czeremcha depot, albeit in a rather unwieldy fashion; there are plans to relocate this engine to a better spot. Photo taken on July 2, 2006.
<![if !vml]>

<![endif]>
Side view of the G81 from TB vol.1, ©Lokomotiv-Revue.
<![if !vml]>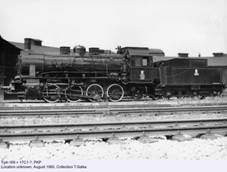 <![endif]>
Tp4-169, location unknown, August 1960. Photo from my collection.
<![if !vml]>
<![endif]>
Most Tp4s were coupled with Prussian class 3T16,5 tenders (in the PKP service, 17C1). Such tender – albeit without a locomotive – can be seen at the Ełk depot. Photo taken on August 14, 2007.
<![if !vml]>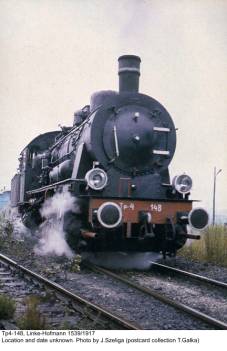 <![endif]>
Tp4-148 continued. This photo was taken by J.Szeliga (postcard from my collection). Details are lacking.
<![if !vml]>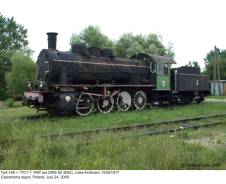 <![endif]>
This engine is still plinthed at the Czeremcha depot, but recently has been moved to a much better location (for a photographer, to be sure).
<![if !vml]>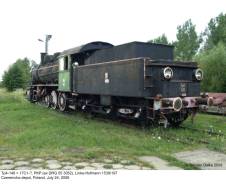 <![endif]>
Both pictures were taken on July 24, 2009.
<![if !vml]>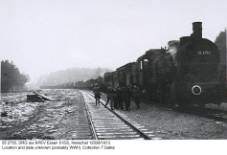 <![endif]>
55 2753 (Henschel 12038/1913) with a military train, probably during WWII. Photo from my collection.
<![if !vml]>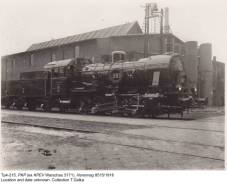 <![endif]>
Tp4-215 (Hanomag 8515/1918) briefly served with KPEV in Warsaw at the end of WWI. Location and date unknown, as well as the reason for decorating the engine with garlands (jubilee overhaul?). Photo from my collection.
<![if !vml]>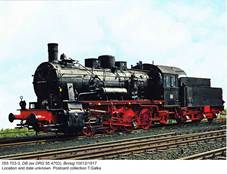 <![endif]>
055 703-3, DB (ex 55 4703), location and date unknown. This locomotive survived in service until December 1971. Postcard from my collection.
<![if !vml]>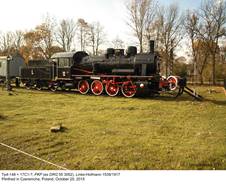 <![endif]>
Tp4-148 once again: October 25, 2015.
KPEV Magdeburg 4869 (Orenstein & Koppel 6714/1914), location and date unknown. This engine was later re-numbered 55 2858 and withdrawn in 1931. Source: Die Lokomotive October 1915.
<![if !vml]>

<![endif]>
KPEV Cöln 4872 (Hanomag 7250/1914), fitted with feedwater heater; probably a factory photo. Later with DRG as 55 2928, withdrawn in February 1934. Source: Die Lokomotive January 1916.
<![if !vml]>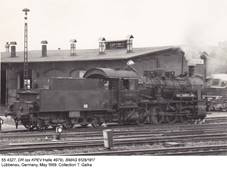 <![endif]>
DR 55 4327 (BMAG 6128/1917), photographed in Lübbenau in May 1969. Delivered to KPEV as Halle 4979, this engine remained in use with DR until November 1970. Photo from my collection.
<![if !vml]>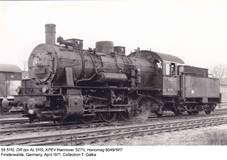 <![endif]>
DR 55 5110 (Hanomag 8049/1917) was originally delivered to KPEV as Hannover 5271. After WWI it went to France, first to Cheminas de Fre d'Alsace-Lorraine as 5110, then to SNCF (1-040-D-110). Taken over by DRG in 1940 and re-numbered 55 5110, it remained with DR until July 1972. Finsterwalde, Germany, April 1971. Photo from my collection.
<![if !vml]>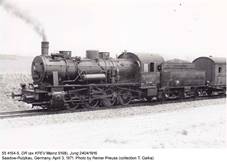 <![endif]>
Former KPEV Mainz 5198 (Jung 2404/1916) later became DRG 55 4154. This engine served with DR until August 1971. Saadow-Rutzkau, Germany, April 3, 1971. Photo by Reiner Preuss (from my collection).
Between 1881 and 1907 Prussian state railways KPEV (Königlich Preußische Eisenbahnverwaltung) received over 3000 freight locomotives with the 0-3-0 axle arrangement (classes G3 and G4 with several sub-variants). With rapidly increasing weight of freight trains, these engines, with maximum tractive effort of 8.2 to 9 tonnes, soon became too weak. More powerful 0-4-0s (classes G71 and G72) appeared in mid-1890s and were followed by class G8 which, for the first time, featured steam superheating. Its direct development, G81, was destined to become one of the most important and most numerous KPEV steam engines.
G81, designed by Robert Garbe, appeared in 1912 and differed from its predecessor in many details, although general layout remained unchanged. Boiler was slightly enlarged and pressure was increased from 12 to 14 bar. With the same cylinder bore and piston stroke, tractive effort rose from 12.2 to 14.4 tonnes. A price had to be paid, however: axle load increased from 16.4 to 17.6 tonnes, quite much for that time: new locomotive could in principle run only on main lines. In order to negotiate tight curves, 4th axle had side-play of 3 mm, while three remaining axles were rigidly fixed in frame (wheel flanges of 2nd and 3rd axles were narrowed by 15 mm). This worked very well, but running was somehow uneasy (anyway, what could be expected from a heavy 0-4-0?) and maximum speed was set at 55 km/h, or 50 km/h tender-first. G81 could haul a 1730-tonne draft at 50 km/h and a 285-tonne draft at 25 km/h on a 25‰ gradient – much better than G8 and even slightly better than later class G10 with five driven axles! Most G81s in the KPEV service were coupled with 3T20 three-axle or 2'2'T21.5 four-axle tenders.
Between 1912 and 1921 KPEV received 4994 examples, including ten originally built for the Alsace-Lorraine railways. Some more were built for other German railways and for export; total output is usually given at 'slightly over 5000' (for example, EZ gives 5101 machines); some sources give larger figures, about 5300. After WWI, many were distributed among several European railway authorities as a part of war reparations. Two remained in Turkey, where they had been brought by German Army; they were designated 44101 and 44102, but saw little service, as their axle load was too high for most Turkish tracks. When German railways were merged into DRG, new company inherited 3122 engines, classed 5525-56. Later 43 machines from Saarbahn were impressed (numbered 55 5623 through 55 5665) and twelve more from Mecklemburgian railways followed (class 5558, service numbers 55 5801 through 55 5810, 55 5851 and 55 5852). Between 1934 and 1941, 691 German engines were rebuilt and fitted with Bissel lead truck, in order to improve running qualities and increase maximum speed, which was no longer sufficient. They were re-classed 562-8. Maximum speed rose to 70 km/h, but due to lower weight on drivers tractive effort decreased to 13 tonnes. Several engines which had not been rebuilt were written off in the 1930s. As with other German locomotives, many were scattered throughout Europe. Apart from Poland, they were used in France (SNCF class 040D), Belgium (SNCB class 81) and Luxembourg (CFL class 46). Romanian state railways CFR acquired 36 ex-KPEV engines in 1920 and purchased 76 brand new ones from Orenstein & Koppel (50), Linke-Hofmann (16) and Hohenzollern (10) between 1921 and 1922 – all classed 40.000. Italy had 45 examples (FS class 460), obtained from KPEV as a part of war reparations; most were withdrawn before WWII, but some survived until early 1950s and two were transferred to Yugoslavia in 1947 (JDŽ 23.044 and 23.045). Lithuania ordered a slightly modified variant in 1920s (LG class P8). In the Netherlands ex-DRG machines saw some service in late 1940s; no class designation was given and they were later returned to DB. In Austria there were a few engines of this type, but they were not impressed into service (although ÖBB class designation 855 was allocated). Czechoslovak railways ČSD took over 25 engines, but only two saw some service as class 427.0: they were used for switching and handed over to PKP in 1947. Of course, several locomotives of this type went to the Soviet Union, but little is known of their use there. After WWII, DB still used these engines in comparatively large number: in 1950 about 520 were in service and last of them survived until 1972, much longer than many Kriegsloks. Perhaps the most exotic history was that of two G81s, built by Henschel in 1915 for German Army, who took them to Turkey. They were taken over by TCDD after WWI and designated 44 101 and 44 102, but did not see much service, as their axle load was too high for most Turkish tracks.
Prussian G81s, acquired by PKP (412 examples from war reparations plus fifty built against Polish orders in 1921, all classed Tp4), made up the most numerous steam engine class in Poland after WWI and – together with 175 Tr20s from Baldwin and 148 indigenous Tr21s – remained the mainstay of heavy freight traffic until the introduction of more powerful Ty23s. In fact, they were outnumbered only by the latter class, of which 612 examples were delivered. Ty23, with the tractive effort of 17.6 tonnes and maximum speed of 60 km/h, gradually ousted Tp4 out from main lines; however, older Prussian engine, with its ability to negotiate tight curves, was ideal for heavy switching, where low speed was not a disadvantage.
A Tp4 (service number unknown) was used in an improvised armored train, built at the Gdynia railway repair works in September 1939. Few details on this interesting episode are known (more information can be found at www.derela.republika.pl). After the September campaign, Germans took over about 360 engines and impressed them into service with DRG; some were given numbers of those written off before the war. All or almost all remaining Tp4s were captured by the Soviets, but little is known of their subsequent fate; LOZD gives no details on their conversion to the 1524 mm track. As far as I know, after 1945 only few pre-war Tp4s returned from Germany and none from the Soviet Union, but PKP acquired a number of DRG engines. In all, 302 locomotives of this type served with PKP after WWII, which made this class a numerous and important one. Tp4 had almost the same tractive effort as type S160 Consolidations (PKP classes Tr201 and Tr203), but American engines, fitted with the lead truck, were faster and had better running qualities. Between 1953 and 1956, 28 examples were converted into fireless locomotives by railway stock repair works of Wrocław and classed TKh4b (one axle was removed); this class shall be described under a separate entry. Tp4s survived in the PKP service until 1972. After more powerful freighters appeared in large numbers, most were relegated to secondary duties and switching; many were sold to industrial operators. Silesian 'sand railways' had over fifty examples and last two of them – in fact the last Tp4s in active service – were withdrawn in early 1980s. Both have been preserved. Borsig 10125/1918, which began its life as KPEV Hannover 5351, later became 55 4765. In 1945 it was taken over by PKP and, designated Tp4-217, remained in service until February 1959. Later this engine was transferred to the Kotlarnia sand mine and remained in use until early 1981; it then served for a short time as a stationary boiler and later was plinthed in Pyskowice. In September 2019 it was transferred to Świeradów Zdrój. Linke-Hofmann 1539/1917, supplied to KPEV and designated Kattowitz 5333, was taken over by PKP in 1920 and became Tp4-279. Captured by Germans in 1939, it was impressed into DRG service as 55 3052 (second with this number – the first one was written off in 1931). In 1945 this engine was returned and designated Tp4-148; it served with PKP until February 1959 and also joined the Kotlarnia sand mine fleet. Between 1981 and 1983 it was occasionally used with special trains. Withdrawn in September 1983, it was transferred to the Czeremcha depot three years later and is currently plinthed there.
One more Tp4 has survived until today. Linke-Hofmann 2196/1921 was built against the Polish order and impressed into PKP service as Tp4-418. In 1939 it was taken over by DRG as 55 3347 (second with this number – the first one was written off in 1933), to be returned in 1945 and re-designated Tp4-259. This engine is on display at the Chabówka railway stock heritage park. At least two more engines of this type can be seen in Germany: 55 3345 (ex Kassel 5159, Henschel 13354/1915) in Bochum and 55 3528 (ex Münster 5256, Hanomag 7587/1915) in Speyer. Romanian 40.001 (ex-KPEV, Henschel 12056/1913) has been preserved at the Bucharest Calatori depot and 40.068 (Orenstein & Koppel 9612/1921) can be seen at the Muzeul Locomotivelor cu Abur in Sibiu. Existence of the 40.055, mentioned in RR, has not been confirmed by Romanian sources.
Main technical data
| | | | |
| --- | --- | --- | --- |
| No. | Parameter | Unit | Value |
| 1. | Years of manufacture | - | 1912 – 1921 |
| 2. | Total built / used in Poland | - | 51013) / 4621) |
| 3. | Tender class | - | 17C1 |
| 4. | Axle arrangement | - | 0-4-0 |
| 5. | Design maximum speed | km/h | 55 |
| 6. | Cylinder bore | mm | 2 x 600 |
| 7. | Piston stroke | mm | 660 |
| 8. | Engine rating | kW/hp | 927 / 1260 |
| 9. | Tractive effort | kG | 14 400 |
| 10. | Boiler pressure | MPa | 1.43 |
| 11. | Grate dimensions | m x m | 2.63 x 1.01 |
| 12. | Firebox heating surface | m2 | 13.89 |
| 13. | Distance between tube plates | mm | 4 500 |
| 14. | Number of flue tubes | - | 130 |
| 15. | Heating surface of flue tubes | m2 | 84.5 |
| 16. | Number of smoke tubes | - | 24 |
| 17. | Heating surface of smoke tubes | m2 | 42.11 |
| 18. | Evaporating surface, total | m2 | 140.52) |
| 19. | Superheater heating surface | m2 | 46.02) |
| 20. | Diameter of drivers | mm | 1350 |
| 21. | Diameter of idlers front/rear | mm | - / - |
| 22. | Total weight, empty | kg | 63 610 |
| 23. | Total weight, working order | kg | 69 900 |
| 24. | Weight on drivers, working order | kg | 69 900 |
| 25. | Weight with tender, empty | kg | 85 610 |
| 26. | Weight with tender, working order | kg | 115 400 |
| 27. | Maximum axle load | T | 17.6 |
| 28. | Axle base (with tender) | mm | 13 155 |
| 29. | Overall length (with tender) | mm | 18 290 |
| 30. | Brake type | - | Knorr, Westinghouse |
<![if !supportLists]>1) <![endif]>Some sources give 459.
<![if !supportLists]>2) <![endif]>Some sources give 144.4 m2 and 51.9 m2, respectively – possible differences between individual manufacturers.
<![if !supportLists]>3) <![endif]>Some sources give 5087, but most don't give any precise number ('above 5000' is most typical estimation).
References and acknowledgments
<![if !supportLists]>- <![endif]>LP, TB vol. 1, EZ, ISRSL;
<![if !supportLists]>- <![endif]>www.lokomotive.de (Ingo Hütter's locomotive database);
<![if !supportLists]>- <![endif]>www.derela.republika.pl (website by Michał Derela);
<![if !supportLists]>- <![endif]>www.polskieparowozy.pl (website by Tomisław Czarnecki).